Chien Fa was established in 1986, in Huatan Township of Changhua County, as an SME specializing in the production of paper tubes for chemical (synthetic) fibers. Our products include a wide variety of paper tubes for use in the textile industry, for industrial use, and also for packing. We have dedicated three decades to improving the quality and precision of our paper tubes, and we are most proud of the quality of our DTY false-twist paper tubes. To uphold our 'customer-first' principle, we strive to continuously update our equipment and improve our quality management system to aim for the highest quality and most rapid service. We hope that in future, we can continue to provide the best products and services to all our customers in the paper tube industry.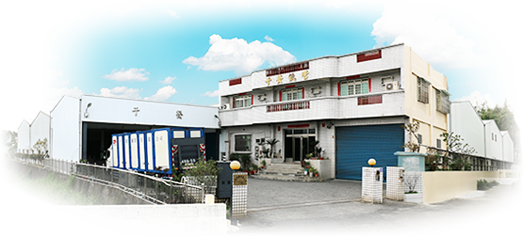 1986 AUG Established in Huangcu Village, Dacun Township, Changhua County, as a producer of industrial paper tubes and DTY (draw textured yarn) paper tubes

1986 SEP Started production of OE (open end) paper tubes

1992 JAN Relocation of factory to Gongqi Village of Dacun Township

1992 MAY Started production of 290(mm) paper tubes for DTY

1993 FEB Relocation of company Qiaotou Village of Huatan Township (current address), with an area of 1700 ping (roughly 5,620 sqm)
1996 JUN Started production of paper tubes for POY (partially oriented yarn) and FDY (fully drawn yarn)

1999 SEP Introduction of automated production line for DTY

2004 AUG Built a second production plant, with an area of 800 pings (roughly 2,645 sqm)

2014 OCT Added 4 more automated production lines for DTY

2015 DEC Began to produce U-shaped tubes
Ordering – Choose the dimensions and color upon ordering paper tubes

Slitting – Slit the paper into a suitable breadth for rolling into paper tubes

Rolling – Pass the slit paper through the glue tank for glue application before it is belt-rolled into paper tubes

Drying – Dry naturally or by oven

Precision Cutting – Feed the rolled paper tube into the cutting station for cutting into lengths suitable for processing
Post-Processing – Shape the paper tubes into customer-requested dimensions

Quality Control – QC personnel to stringently check each paper tube

Packing – Pack into cartons or bags after QC inspection is passed

Delivery – Deliver the product safely and rapidly to the customer by company vehicle
In order to deliver the best service to our customers, we provide rapid delivery of products within 24 hours after order placement for existing domestic customers, in the hopes of being your paper tube supplier with the highest degree of cooperation.
YI FAN TECHNOLOGY CO.,LTD.